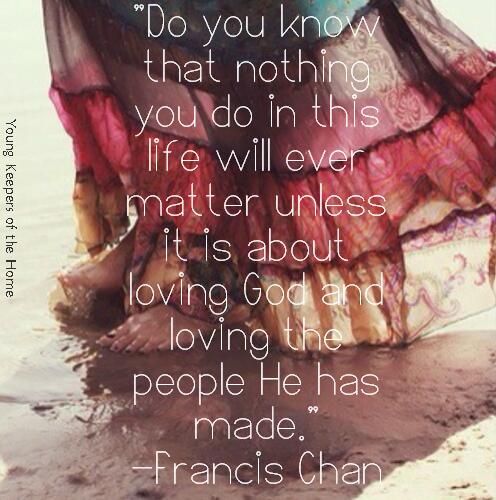 This quote from Francis Chan really spoke to me about the love of God and how it should inspire everything that we do. Nothing we do even matters if it is not motivated by love. Mike and I were talking yesterday about why we get so distracted by little things people do or say that don't matter when we are really only called to love them. 1 John 4:7 says "Dear friends, let us love one another, for love comes from God. Everyone who loves has been born of God and knows God." We can't truly love until we are found in Him. It's an area where I fall short many times because I realize how many opportunities I am given in a day to love.
A couple weeks ago, a missionary from our church was able to go to India and share the gospel in an area where it is not necessarily welcome. He reported that many people gave their hearts to Christ during the trip. He was also able to preach the first Christian wedding in the city where a few hundred people heard the Gospel that day for the first time! The picture below is beautiful to me, seeing these women and men with their hands lifted high and praising the name of Jesus!
To me, there are not many better expressions of love than people who are willing to be obedient and go where God leads them. That obedience could make the difference between someone choosing to accept His love or not. The link below allows you to sow into the ministry of missionaries like this who go to the uncomfortable places and engage with the lost. More pictures of this trip can be found at http://www.bcog.me/missions-photo-gallery/.
http://www.bcog.me/missions-giving/